There is no shortage of Beta Glucan products to consider. Most cost much less, most make unsupported claims and reference out of text, published studies.
The effectiveness of Beta Glucan's immune system benefits are directly controlled by product purity. Product purity is the percentage of 1-3 and 1-6 linked Glucan molecules, correctly referred to as "1,3/1,6 linkage" in the product. Only the 1,3/1,6 linkage in Beta Glucan has been proven endless times to generate serious and provable immune system benefits. Only the 1,3 and 1,6 linkages have been proven to bind/dock with the CR4 immune system receptors in your body that activate the immune system, specifically macrophages, neutrophils, and natural killer cells.
The Journal of American Nutraceutical Association (JANA) recently published the most comprehensive and complete, peer reviewed, study ever published on "Commercially Available" Beta Glucan Products ranking their immunological benefits.
Beta Glucan 300 was the top product, it was 8 times more effective than the next best product and 160 times more effective than many of the popular Internet products being sold.
Product purity ranges from 15% to 88% active 1,3/1,6 linkage. The tan powder inside the caplet does not care if it is in a 10, 100, or 500 mg caplet. If the purity is not there, the immune benefits will not be there.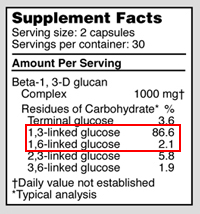 This is the FDA required supplement facts panel from Beta Glucan #300. It clearly shows the active linkages totaling 88.7%. All products have a supplement facts panel. To compare products, take the time to compare the active linkage between them. If a product will not give a detailed summary, there likely is a reason.
Click on the Supplement Facts panel to review additional test data.
If a product but will not detail the linkages, you can assume they do not want you to know the actual percentage.
Every manufacturer knows exactly how much Active Linkage is in their product. The question is, will they provide you documentation? Even if you do not understand what the retailer is doing, your immune system will.
The JANA articles further illustrates that product specifications do count on immune system products.