Supplement Facts
Vitamin C (from ascorbic acid), vitamin E (from d-alpha tocopheryl acid succinate), zinc (from zinc citrate), selenium (from sodium selenate), arabinogalactan, beta 1, 3 glucan, proprietary blend (astragalus root, echinacea, purpurea (leaf and stem), elderberry fruit), gelatin, rice flour, purified water, silica, and magnesium stearate.
Active 1,3/1,6 Linkage - Not stated.
Supplement Facts not shown.
No Certificate of Analysis
Supplement Facts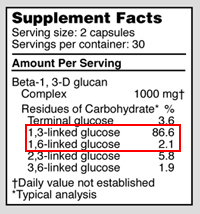 Active 1,3/1,6 Linkage - 88.7%